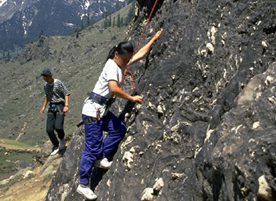 Mountaineering in Manali …



Mountaineering Institute in Manali is located 3 kms. from down-town on the Left Bank of River Beas. It provides training facilities for basic and advance climbing both for Indian nationals and foreigners Mountaineering Institute in Manali organizes basic & advance training courses in, trekking, mountaineering, skiing and water sports. Skiing and trekking equipments can be hired from Mountaineering Institute by booking in advance. Tourists can visit an interesting showroom of Mountaineering Institute. This institute also conducts other adventurous sports activities like high altitude trekking, minor mountaineering, rock-climbing, skiing, and high altitude rescue and relief courses. The institute has sufficient lodging and boarding arrangements and equipment can be hired for trekking purposes.

More information can be had at the official web site of this institute : http://dmas.nic.in/Trekking.htm



For the most adventurous, peaks in Kullu valley offer challenging playground for Indian and International expeditions as well. With an average altitude of 5,000 to 6,000 meters, these peaks have been tried by experienced mountaineers from all over the world.

The large number of virgin peaks, easy access to base camps and the affordability of local expeditions have made Kullu a good value for many mountain climbers. Mountaineering inspires man to attain the inner elusive peak within himself. But it also requires exhaustive planning, budgeting, specialised equipment, expertise and experience. Bonhomie, camaraderie, esprit de corps and team spirit is developed through mountaineering. Kullu and Manali have produced some world class climbers like Dicky Dolma, a woman living in Manali, who climbed Mount Everest at the age of 19 years. Other well known climbers include Col. Prem Chand, Radha Devi or Deepu Sharma. These people have made history and reserved a place of fame for Manali in the international mountaineering scene. The Beas Kund region, the lower ridges of Hanuman Tibba (5930m) and Deo Tibba (6001m) are suggested areas for beginners.

Beas Kund, Chandertal and Malana glaciers are the most popular among ice climbers.