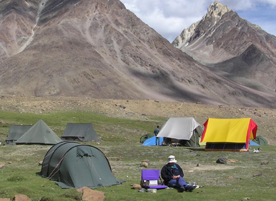 Manali Camping…..

Away from the hectic city life, Manali is having the dense woodlands, cedar forests, the crisp mountain air beckon the nature lovers to this enchanting land. Camping in Manali at once means relaxation in the lap of Mother Nature. The serene beauty with the balmy breeze takes away the exertion that one feels from the monotonous daily chores.

The Beas river has its source in Rohtang pass where Beas Kund Camp is a popular camping destination. Raison, and Shoja also have a beautifull camp sites for the experienced and high altitude campers the glacier of ladakhi Manali is an irresistible attraction. For inexperienced the Solang valley, Kothi and Manali camp offers luxury camping amidst the Apple Orchids.

This apart there are various camping grounds accessible from Manali including the Malana, Pulga, Kheer Gangain in Kullu also. Equipments, training, safety precautions as well as experienced educators and guides are also available in Manali with different Tour operators.

Manali camping can also be arranged by package tour providers who have arrangements for tent accommodation in particular camping grounds. The packages as options from many of the Manali adventure tours may include food, lodging, adventure activities, bonfires and a host of other amenities and services. The best months of the year for camping in Manali are from April to middle of June and from the middle of September to the first half of October. Warm clothes are highly recommended




Our comfortable outdoor camp - sites have spacious tents and warm, cozy sleeping bags to snuggle into. Throughout your stay, we`ll serve You delicious veg or non-veg meals that do justice to the large appetite, the clear mountain air can create. Our camps have western style toilets and wash tents, beds in every tent, generator powered lights and dining tents.
High Lander Camps Manali : 09816505942

One Day Treks
Chanderkhani Pass Trek
Hamta Pass Trek
Bijli Mahadev Trek
Jogni Water Fall trek
Lamadug Trek
Solang Valley Trek
Patalsukh Trek (Solang Valley)


These trek Includes :
1 Packed Lunch
2.GuideTransport Cost upto starting point & Pick up Point Extra.
Two Days Treks
Bhrighu Lake Trek
Patalsukh Trek
Lamadug Trek
Hamta Pass Trek
Chikha Trek
Rani Sui Trek
Chanderkhani Pass Trek
Beas Kund Trek
Bijli Mahadev Trek

These trek Includes :

1. 2 Breakfast, 2 Lunch & 1 Dinner
2. Guide
3. Tents with Sleeping Bags & matressTransport Cost upto starting point & Pick up Point Extra.